Here, you can find the program for AID 2023! Look below for more information on each program part. Below you can also find out the religious program, for religious activities that are organised during the AID.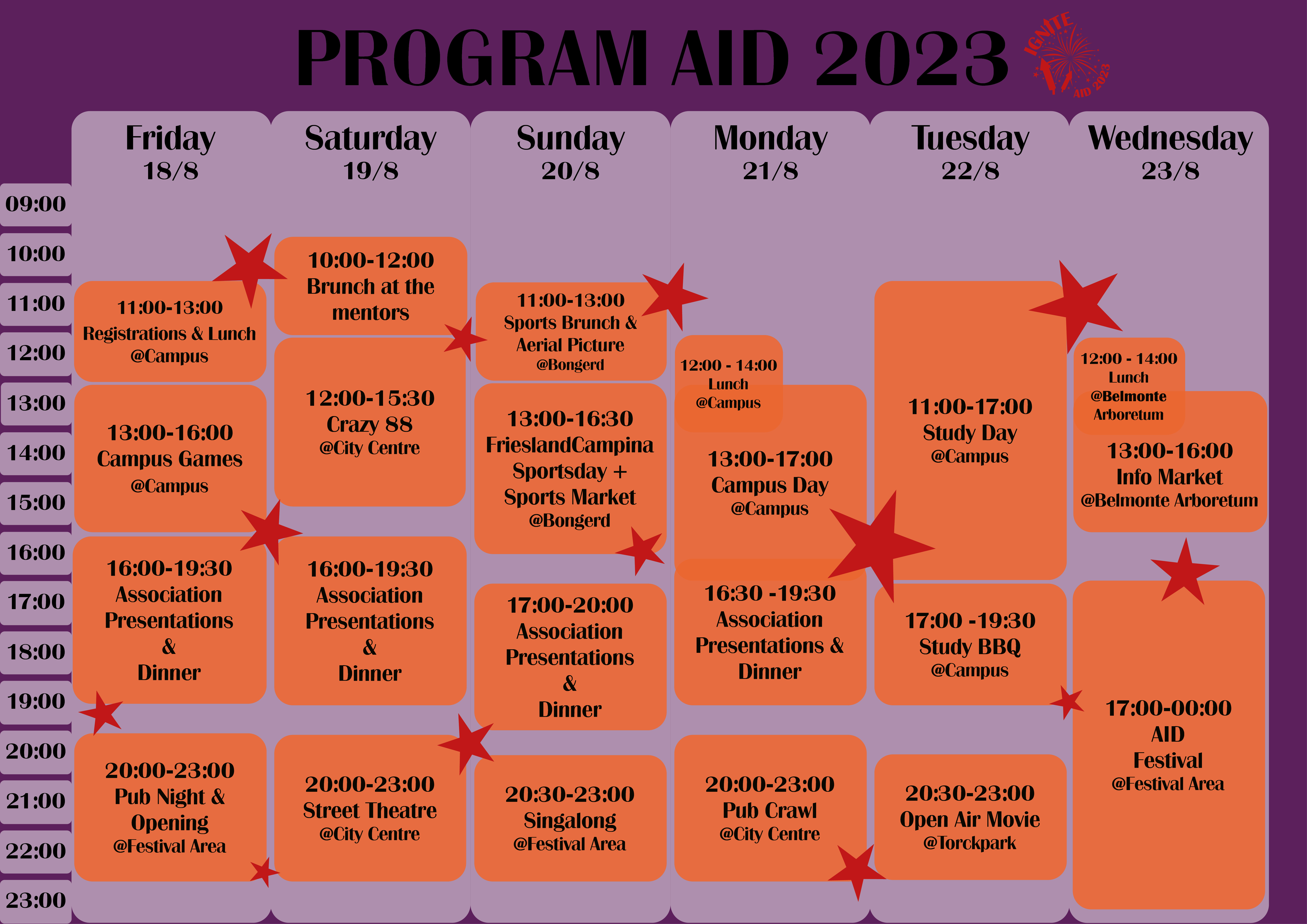 Friday 18th of August
Registrations
Enter the WUR campus to pick up your AID bracelet and meet your fellow AID participants for the first time. After you have found your mentors and AID group, you can go to the festival area to pick up your lunch and enjoy a nice lunch on the campus.
Campus games
Play fun games on campus with some of the associations and get to know your AID group!
Opening & Pub Night
Enjoy a laid back evening at the festival area with your AID group. Play some traditional Dutch games or just chat and enjoy live music from two local bands. During this evening, we will also do the official kick-off of this AID!
Saturday 19th of August
Crazy 88
Get to know the city centre of Wageningen and play games or challenges at different Wageningen organizations. The group that completed the most challenges wins a prize!
Street theatre
The city centre of Wageningen turns into a large stage for some amazing acts. Enjoy magic tricks, dance performances, music and more. All performances will take place on the market square and in front of the Junushoff.
Sunday 20th of August
Friesland Campina Sports day + Sports market
Get active during the Friesland Campina Sports day and try some sports you have never tried before! Are you considering to join a sports association? Take a look at the sports market! All the student sport associations will be present.
Singalong
Take a moment to not think about anything and just enjoy the music during the singalong! Sing along with the GuteNAbend, who will perform their best covers of famous songs! Lyrics sheets will be provided.
Monday 21st of August
Campus day
Explore all things that the WUR and Aeres campus has to offer next to studying! On this day, you can participate in educational activities and develop yourself personally. You can take part in guided tours on campus and visit various companies located on campus. Additionally, you can follow workshops organized by many different organizations and associations.
Pub crawl
Get to know the pubs that Wageningen has to offer. Crawl past three pubs where you can maybe even get a free drink!
Tuesday 22nd of August
Study day
During this day, you will meet all your study friends! Next to that, you will receive some practical information to start your study program in Wageningen. With the following link you can find at what time and where you're study day starts www.aidwageningen.nl/en/service/studiedagen. If you did not register through our system, you will have to bring your own food.
Study BBQ
Spend some time with your study friends to bond and enjoy a nice, vegetarian barbecue!
Open air movie
After the study day BBQ you can head to the Torckpark to enjoy a movie in the park. Enjoy this movie with your study friends, your AID group or whoever you would like to see a movie with. We will keep the movie a secret until Tuesday night.
Wednesday 23rd of August
Info market
Still in doubt what organization you want to join? Or do you want an overview of everything that Wageningen has to offer? Take a walk at the information market in the beautiful Belmonte Arboretum. Maybe you can even get your brunch from the Rector Magnificus or the Mayor!
AID Festival
Enjoy good vibes on the AID festival! You can try nice food from restaurants in Wageningen and relax in our chill corner. And of course, there is plenty of music to dance to on the main stage, DJ stage or in the silent disco on this last night of the AID.
Friday till Monday
Association presentations & Dinner
From Friday till Monday you will have dinner at different student associations, check your myAID to see where you can enjoy dinner. There will also be different presentations every day to show you around various presentations.