Sustainability during the AID
Wageningen University is known because of its sustainability. The AID is also sustainable in many ways and we want you to get familiar with this! Every year, two board members take care of the sustainability of the AID and they think along with every committee and program part to see if we can make even more sustainable improvements.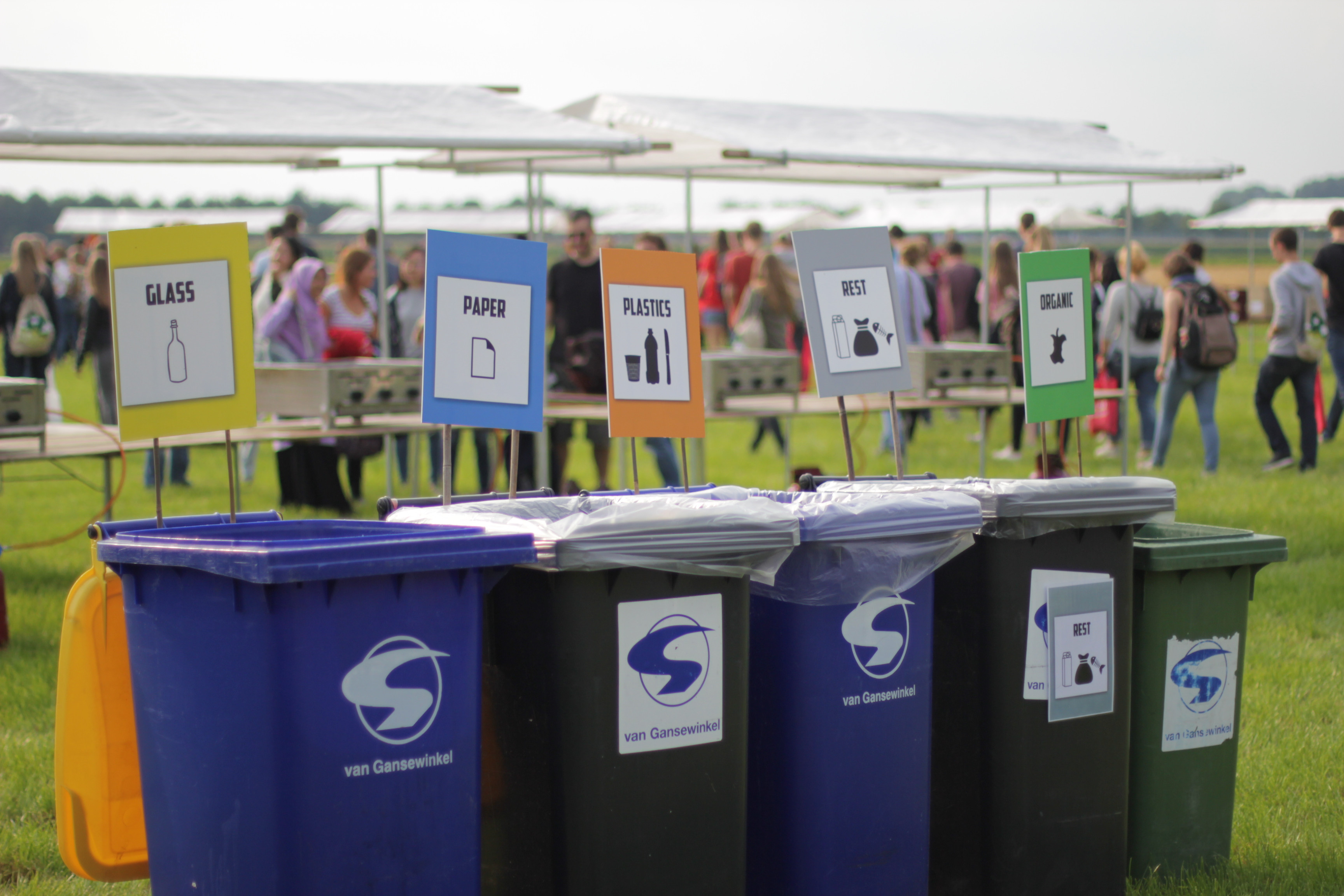 We make the AID sustainable through:
The use of our website during the AID, where you can find all information you need. This saves paper by not printing program booklets and maps.
The power used before and during the AID is 100% green. The power we use comes from the university buildings, which is generated by windmills on one of the three windmill parks of Wageningen UR. For big events like the AID Festival we make use of a green power generator.
The garbage of more than 3,000 AID participants is professionally separated and collected. There are 19 different waste flows, so start separating!
The amount of food per person is adjusted so leftovers are reduced as much as possible. All left over go to the Food Bank or Foodsharing Wageningen: to others who can still use this (sustainable and social).
Catering offered during the AID is fully vegetarian. We want you to experience that eating vegetarian food is a nice and healthy alternative that you could try regular.
The AID cooperates with local suppliers and companies. Many of these companies are situated in Wageningen or in its nearby surroundings. This saves transport kilometres and stimulates the local economy. The fruit that is used in the AID is always seasonal.
During a lot of the activities in the AID you can fill your bottle with water at our waterboard. Re-using a bottle is sustainable since it reduces waste from plastic bottles.
During several program parts, we make use of hard cups.
During the AID we will create awareness among the AID participants, mentors and locals.
During the AID you will find several Green Men around the campus and the city centre of Wageningen. They tell you all about sustainability at WUR and a sustainable student life.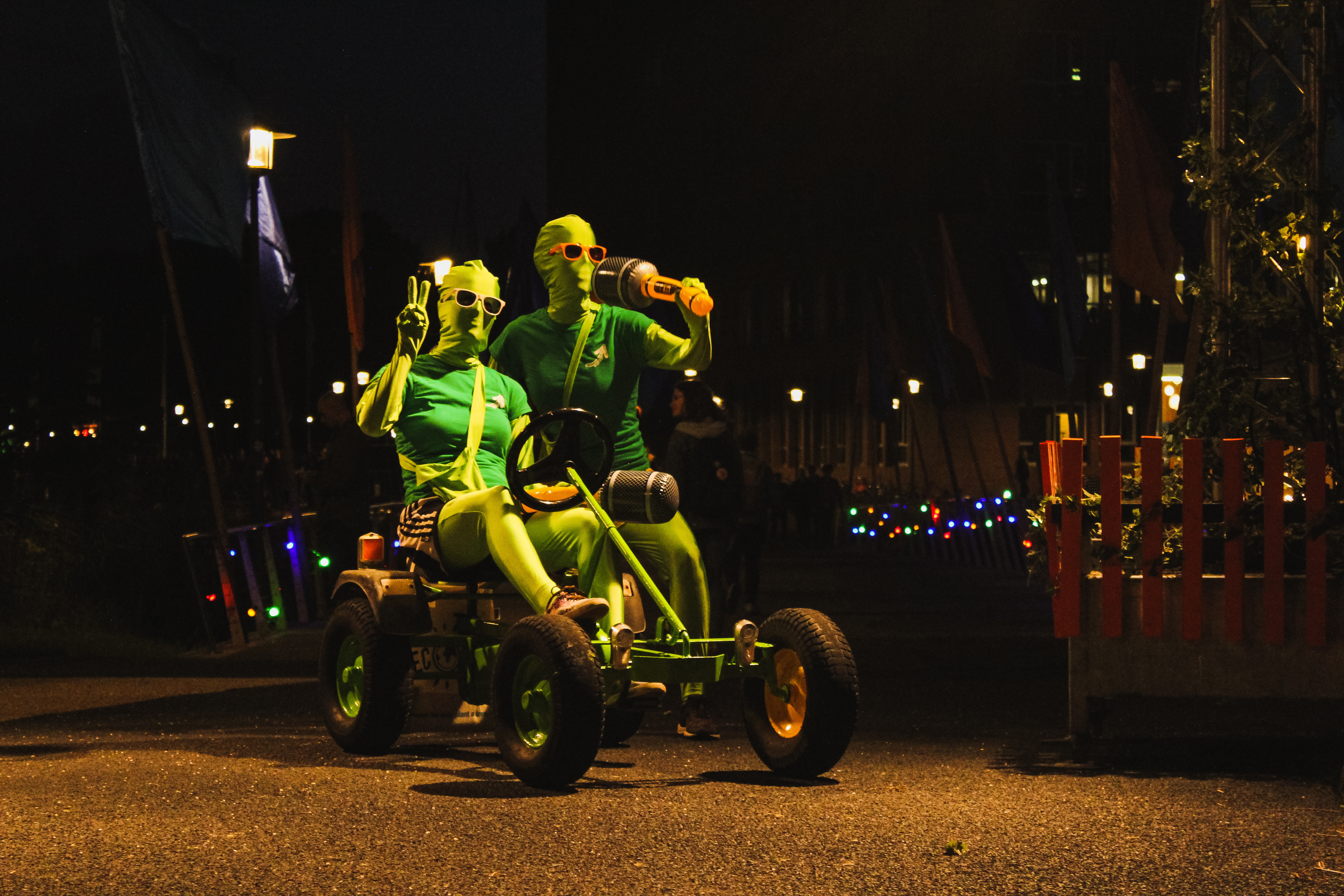 The Studenten Voor Morgen organisations organises a competition for the Most Sustainable Introduction week each year. We have won this price in 2015, 2016, 2017, 2020 and 2021. Click here to find more information about this competition.
What can you do to be sustainable during the AID?
Refill your water bottle instead of buying a new one very time.
Reuse the AID bag, not only during the AID but also after!
Separate your waste at the waste stations.
Try and produce as little waste as possible:

Take leftover food home
Only open a new package when the old one is empty
Share plates or knives. Bring your own during diner and lunches!
Bring your own cup

Buy a second-hand bike during the AID: low price and fine to use during your student life in Wageningen.
Keep an eye on this website to be updated on the program and to always have a map with the most important locations in Wageningen with you!
Sustainability in your student life
How can you be more sustainable during your student life?
Bring a reusable coffee/tea cup to university. This will reduce waste.
Watch your water use. Make sure to turn off the tap while brushing your teeth or shorten your time in the shower.
Try second-hand. Buying second-hand is a lot better for the environment and saves money!
Ditch plastic bags. Use a reusable bag, like our AID bag!
Eat more veggies instead of meat and dairy products. The production of meat has a huge impact on the environment. Avoiding meat and dairy products is the single biggest way to reduce your environmental impact on the planet!
Refill your water bottle. Much like carrying a reusable coffee cup, using a reusable water bottle has great benefits to the environment and helps to reduce waste from plastic bottles.
Delete more emails. Storing countless emails actually consumes energy.
Buy your stuff at eco-friendly/sustainable shops.
Reduce your food waste. Make sure to consume the food in your cabinets in time and safe your leftovers.
Make use of colder water during the laundry, dishes and while showering. This will save energy.
Put on a sweater instead of turning on the central heating.
Find more sustainable challenges on www.52wekenduurzaam.nl!